BILSTEIN Street Performance: Experience the street like never before
BILSTEIN performance suspension systems place you squarely in the driver's seat of unparalleled driving enjoyment. Our commitment is to blend top-tier technologies, exceptional components, and premium parts tailored specifically to your driving style and personal requirements. This bespoke approach isn't just for any vehicle; it's the same philosophy and meticulous engineering we apply to our esteemed clientele, including prestigious brands like Porsche, BMW, and Mercedes-Benz. Further honing our systems to near-perfection, every BILSTEIN product undergoes rigorous road testing, emulating the demanding conditions of motor sports.
Unleash Ultimate Road Performance with Bilstein Evo T1
Experience the epitome of precision engineering and unparalleled performance on the road with Bilstein's Evo T1 Coilovers. Designed for those who refuse to compromise between street-ready comfort and racetrack performance, the Evo T1 is a testament to Bilstein's commitment to excellence in automotive innovation. Crafted for both daily drivers and weekend track enthusiasts, the Evo T1 offers an exceptional balance of handling and smoothness.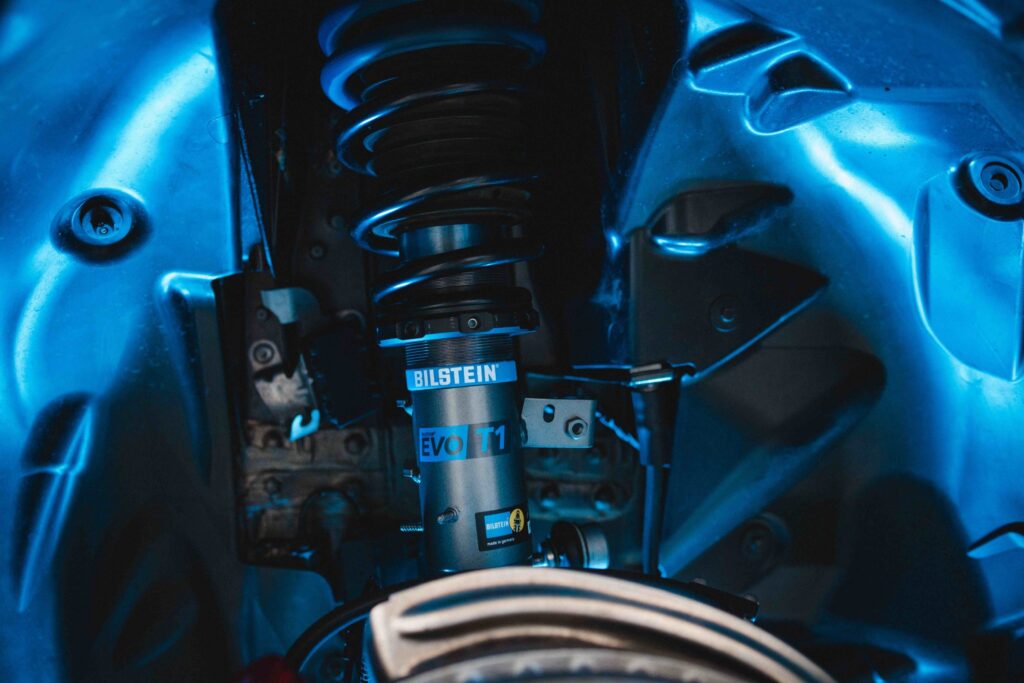 When it comes to enhancing the performance and driving experience of both race and street cars, Bilstein stands out as a leader in the world of suspension technology. With a legacy built on innovation, quality, and performance, Bilstein's range of high-performance suspension systems, including the renowned Evo T1, Clubsport, and B16 Coilovers, offers unparalleled solutions for both the racetrack and everyday road use.
The Bilstein B8 is an exceptional choice for automotive enthusiasts looking to elevate their driving experience beyond the capabilities of standard manufacturer sports suspensions. Designed as a retrofit option, the B8 series ensures your vehicle is tuned for an optimal blend of performance aesthetics and road feel, lowering the vehicle and driver's center of gravity by up to 50 mm, depending on the application, without the worry of rubbing or scraping the pavement.
Sporty handling you can feel in any situation – even on the track.
Damper settings for very sporty handling in any situation on the road or track
Lower your ride height by up to 50 mm: flexibly and individually – with threads to spare and a technical certification
Perfectly tuned lowering: Get rid of that unsightly wheel gap – without any technical issues!
Discover our Performance Products
Thanks to our Dual-Click adjustment, you have everything under control with our BILSTEIN EVO T1 track…
Bilstein's ultimate coilover offering, the BILSTEIN Clubsport suspension kit is a coilover package that…
The BILSTEIN B16 offers a higher level of adjustability, allowing you to achieve ultimate driving enjoyment…
With our BILSTEIN B14 street performance coilovers, you close the gap ̶ as personalised as you need,…
BILSTEIN B8 gas-pressure shock absorbers offer the perfect performance enhancement to go with the sporty…
The ideal gas-pressure shock absorber for those who refuse to compromise, either on performance or on…
Do you have any questions? We're here to assist.
Do you have any comments about the company? Do you need technical support for our products? Or do you have any questions about a career at BILSTEIN? We will be happy to help you!